Sucking at Golf
In August, we start anew.
A new year. New kids. New goals.
I love the start of a new year. Life just seems full of possibilities. It seems like I can do anything. Be anything.
My plans for that first day–to begin making those connections with kids. I have 100 new students coming into my classroom. They'll be excited to be back in class, but a little nervous too.  Especially those in speech class. I want to let them know it's OK to be nervous, that I don't expect perfection, and that I want to help them.
I model the first speech of the year for them on each first day. It's a paper bag speech that introduces them to class. They are to put three objects in the bag that will help us get to know them. My speech goes a little something like this:
I'm Mrs. Day and I'll be your speech teacher this semester.  I know that many of you are a little nervous about this class and having me for a teacher.  I'm going to tell you a little bit about myself just so you know who I am.
I was a very shy student until my sophomore year in high school when I took speech and drama classes.  Those classes helped shape me into the person I am today.  I can still be shy, I still get a little nervous talking in front of people, but speech helped me deal with both of those things. I hope it does the same for you.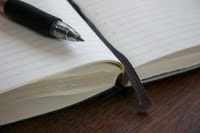 (Hold up my writer's notebook)
The first thing you should know is I am a writer.  I love to write.  Creative Writing is a class close to my heart.  I think it's important for people to write every day. It makes you think and feel.  This is my writer's notebook which I try to write in every day. I also write a blog about teaching and my life that has become a very important part of who I am.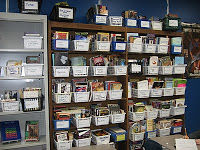 (Hold up a book)
I am also a reader.  I read every day.  I read everything I can get my hands on–magazines, newspapers, blogs, books and cereal boxes. I have read at least half of the books on those shelves, so if you have the need for a good book, talk to me.  I promise I will find you one.  Just because this is speech class doesn't mean you can't check out my books, so find some time to go through the boxes and see what you can find.
These are important things to me and I'm good at them–guess it's why I'm an English teacher!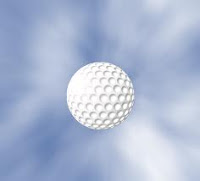 (Hold up golf ball)
In the last few years, I have also learned to golf.  I suck at golf (there's usually a little chuckle here). But I love getting outside with my friends and enjoy the fresh air and sunshine. But really, I suck.
Now, let's face it. Most adults don't continue doing things they aren't good at.  If they try something and aren't successful at it, they quit.  They never do it again.  Kids don't get that option. For better or worse, you have to be in this class whether you enjoy it or not, whether you are good at it or not. So golf reminds what it's like to be a student in my classroom. What's it's like to not be good at something. What it's like to not enjoy something all the time. What it's like to struggle.
You will see that I usually have a golf ball on my desk, It's my reminder to be patient, to be understanding, to sometimes give you a break when you need it.  If you are struggling with things, please come and talk to me about it.  My door is always open.
And then I stop. I hand out the assignment and the paper bags, and let them get to work. But I have figuratively opened that door.  I've let them know I don't expect them to all be good at this thing called speech. That's it's OK to struggle. That it's OK to ask for help. And this is how I start making connections.
Deb Day teaches English and Speech at Crestwood High School. Find her on Twitter at @mrsday75 or her teaching blog at deb-day.blogspot.com.