Connect at Eng-Camp 2017!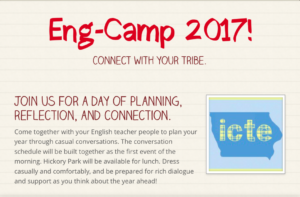 Eng-Camp 2017 is just over one month away, and I wanted to share a testimonial from Alyse Garcia, one of last year's Eng-Camp attendees:
I had a wonderful time at Eng-Camp last year. After my first year of teaching, it was so helpful to be able to sit with other teachers and talk about topics that we chose ourselves. The discussions I took part in both inspired me to create a more reading-centered classroom and provided me with resources to make it possible. I learned about new authors to help my personal professional growth and I got contact information from other teachers who attended. I recommend that any and all teachers come to Eng-Camp. It's a great opportunity to talk about our classes in a friendly and welcoming environment.
Eng-Camp is an opportunity to get what you need from professional development as you gear up for a new year. And, as an added bonus, you could win a door prize and eat delicious lunch with your friends.
Best of all, it's free!
Thanks for taking time out of your summer to connect with ICTE, and I hope to see you on August 3rd!
Sincerely,
Brenna Griffin, Conference Coordinator
Iowa Council of Teachers of English
3194271950