Rituals and traditions that cemented teacher relationships through my years of teaching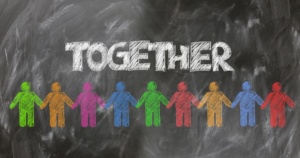 Our teaching colleagues are a network of support who become our work family if we are lucky enough to find a school to call home where we grow older together. We are more likely to enjoy our jobs and stay in the teaching profession if we have colleagues we can call our friends and share a beer, tear, or jeer with. Looking back over my career, my happiest memories of teaching were in places where my fellow teachers got together outside of school on a regular basis where traditions were fostered and laughter was loud.
Now that I've been teaching over 20 years and my children are old enough to care for themselves, I realize I need to step up my game in organizing "bonding activities." However, as an introvert, that phrase makes me want to roll over and play dead. As I revisit my career and what I've enjoyed, maybe you, dear reader, might find something to take away to implement with your own faculty. But please don't call it a bonding activity, or I won't show up.
Teacher jokes and pranks. Back when email was a novelty and social media was not yet invented, we had a teacher on staff who forwarded funny posts over email. That would be an incredible annoyance today that could get you fired for misuse, so I don't advise it. However, writing your own funny items and posting them in the lounge with a tray of treats might be more popular. At one time, I wrote weekly top-ten lists (David Letterman style) about current events or people at school. They were silly and sarcastic, but not mean-spirited. You are probably an English teacher and writer if you are reading this, so I'll give you some ideas: The top 10 things your science teachers do to mess with students' minds, the top 10 reasons the math teacher should have been homecoming king. The top 10 reasons your principal doesn't check email. The climate of your school will determine how far you can go.
I've also witnessed some pretty funny jokes and pranks. Last year, a new teacher on staff took all of the school photos of himself from school picture day, wrote silly messages on them, and placed them on our computers for us to remember him by. It's so funny I'm still laughing about it. The same year, books with embarrassing titles started showing up in teachers' mailboxes, which are easily seen where teachers eat lunch. Another year, our AD lost his beloved coffee mug that had used for over a decade–so worn that it had a discolored dent in the lid where it hit his nose. Pictures of this distinct mug were taken in different locations around town started being delivered to him, along with a funny ransom note. Sadly, he eventually retrieved the disgusting mug.
Dinner and TV. My first year of teaching, I was single. I roomed with another single teacher in an apartment above a business in the small town where we taught. There were about five or six of us who would get together at a different teacher's house or apartment each week for dinner and to watch the Thursday night TV shows in the mid nineties. (Remember starting off with Friends and ending the evening with E.R.?) The host made an easy dinner, often spaghetti or burgers, and everyone else contributed drinks or chips or sides. This was a cheap and easy way for us to feel connected and find our way to Friday.
Group photos (with or without dressing up). In my second teaching placement, after I was married, I worked at a middle school. One of the teachers took a group photo of all of the staff on the first day of school each year. He printed enough copies for everyone, along with names of everyone on the back. I treasure this photo. I wish that I had one of every staff I have taught with. Sadly, I was only there as a one-year sub. In my current position, we have been dressing up in ugly holiday attire on Ugly Sweater Day every December. We take a group photo of staff before school begins. Although we may not get everyone in the picture, it is a reason to get together, and the dressing up also bonds us as a faculty.
Friday afternoons at the bar. At another middle school I taught at, I was with a group of teachers who had begun teaching together in their twenties and by then were in their fifties. They had a lot of history together, and it showed me that your colleagues could become some of your best friends for life. Every Friday, the group, who kindly took 24-year-old me in as one of their own, would meet at a local bar at 4 p.m. As middle school teachers, most did not have coaching commitments, so almost everyone showed up to let off steam and rehash the more lively moments of the week. It was a routine that kept me sane in a small town where it was not easy to make new friends. This group of teachers all retired at about the same time over a decade ago and still get together weekly for breakfast.
Book clubs, classes, and certifications. While raising my family and getting my master's, there wasn't time or money to go out. I made many friends in the classes I needed to take, but it was even better to be able to study with colleagues when the opportunity arose. Sometimes, we organized common reads to then get together and discuss, meeting at nearby coffee shops, so no one had to host or clean.
Coffee. It's as simple as making a pot of coffee. This summer, I invited the entire staff to my house for coffee on my back porch a couple different mornings. I said people could arrive anytime between 8:30-noon, and didn't need to bring anything. I was scared no one would show up, but consoled myself with the fact that there would at least be coffee, and I would be able to sit alone and drink it while reading if nobody came. The first time, there was a steady stream of people, including our newly hired superintendent. The second time, a smaller group came, but stayed the whole morning. The funny thing is, I was the only one who drank any coffee the second time–everyone else brought their own tea or water bottles!
I hope these ideas inspire you to reach out to your colleagues to plan something fun so that you will have plenty of pictures together in ugly sweaters with memories of pranks to discuss at your weekly breakfasts when you are in your sixties and retired. If you're lucky.
JoAnn Gage teaches English and Journalism at Mount Vernon High School.