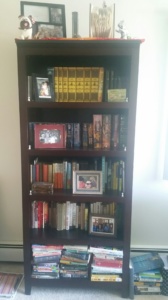 I've lived in my apartment for almost seven months now, but everything has felt a-jumble, a little off.  Part of that, I think, is that my apartment has been a mess ever since I moved in. When I  moved out of my town house, I decided it was time to say goodbye to my bookshelf.  It had a good run–probably twenty-plus years.  It was originally my brother's, as evidenced by the dinosaur and Looney Tunes stickers affixed to the side and the label on the underside of a lower shelf that simply read, "jason farted."  
After so many years of use, though, the shelves had started to bow under the weight of all my books, particularly the ones I had yet to read.  In a way, I can hardly blame the shelves for caving to all that pressure.  I can't ever seem to stop myself from buying new books even though I'm well aware that I could already fill an entire bookcase with books I own but haven't read.  It's a comfort to me, surrounding myself with books.  To this day, I envy Belle's access to the Beast's magnificent library.  One day I would love to have a real library of my own.  It's certainly safe to say that I'm headed in that direction.
Over the past seven months, though, my books haven't felt like such a comfort.  Packed up in boxes from the move, homeless, they sat aimlessly around my bedroom, filling most of the floor space and acting as an obstacle course or jungle gym for my puppy.
Now, I'm used to a certain amount of clutter.  I rarely have (or make) the time during the school year to tidy up around the house.  By the time I get home, I'm too drained by the day's work and taking care of the bare necessities of adulthood responsibilities to go beyond and, frankly, make my room look like an adult actually lives there.  But the books were different. Every glimpse of those boxes was a reminder that I hadn't yet taken care of my dear friends, my books.  They started to weigh on me like they did on that old shelf.
Finally, over spring break, I found a bookcase worthy of housing my collection.  It wasn't exactly what I had envisioned, but it was beautiful.  I recruited my roommate to help me get it from Target; bookshelves aren't light.  And, it turns out, they're not small, either.  As I wove carefully through the aisles with the bookcase stretching feet ahead of its precarious rest in my cart, I felt like I was sailing a ship.  All it was missing was a mermaid on the front of the box.
Assembly was more work than I originally anticipated, but I was determined to get this shelf put together as soon as possible. I was close, and I wasn't about to slow down.  The next day, there it finally stood, against my bedroom wall: a tall, shiny, solid new home for my books.
I set about the work of organizing the books almost meditatively.  The ones I had yet to read should still be separate from the ones I had read.  The series should stand alone.  The rest should be organized by color.  I took each book carefully in hand and examined the spine before placing it in the corresponding pile.  Series went first, on the top shelves, then books I've read, by color family.  (Getting more exact about gradient would require eyes more expert than mine, I quickly realized during the sorting process.)  Finally, the bottom shelf and a half took in my unread books.  First vertically, then horizontally in front for the sake of practicality.  And then some more on that next shelf up.  Maybe I'll need to head back to Target.
Even though not all of my books fit on that new shelf, I now had five empty boxes and just a small stack of books next to a solid, organized book mansion.  Having tackled that obstacle course, I found it easier to address other piles of things that had been lying around for a while.  It was as if everything had been waiting for the books to get home.  Now that they were, everything else seemed more manageable.  The books no longer weighed on me.  
Even now, I am finding it a bit easier to deal with the inevitable piles, physical and otherwise.  Piles of things to grade, lists of things to do, and in the back of my mind, stacks of anxieties over how I'll ever get everything done. Through this  flurry, I at least know that my books are safe on their bookcase, full of wisdom, humor, tragedy, and philosophy.  From their new home, they once again exude a quiet sense of comfort and certainty despite the tumult of life.
Kelsey Flattery teaches ELL at Valley High School in West Des Moines. Her favorite things include reading, languages, and when the quietest student in the class suddenly shouts out an idea.