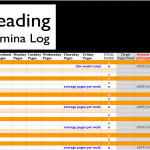 This is part of a New Year's resolution that I titled "Visible Teaching, Visible Learning." It originally started with a goal to help my students make their own learning more visible through blogging, and then I started to think about how I need to model my own visible learning and how I need to make my teaching more visible as well.
Adding reading stamina logs to my teaching practice started when I heard that the Iowa Council of Teachers of English was bringing in Penny Kittle to discuss her concepts of developing "depth, stamina, and passion in adolescent readers." Naturally, I purchased Kittle's Book Love (2012). And this fall 13 secondary teachers from Ames attended the  ICTE Fall Conference in Johnston. Keynote speakers Teri Lesesne and Penny Kittle modeled the learning lifestyle and surpassed my expectations.
For you English geeks or those wanting to more easily monitor reading stamina using Google applications, here's my vision of the missing appendix to Book Love. Last semester I had my students record their reading progress with a Google spreadsheet that I sent to each of them using Doctopus. This semester I've updated the Reading Stamina Log spreadsheet. Take a look at the spreadsheet, and feel free to go up to File and Make a copy . . . so that you can modify it for your own purposes.
Some additional thoughts: Our school colors are orange and black, so my apologies to those who shy away from orange. Right now I'm using the third sheet to measure my students' current reading speed. Look at the three tabs on the bottom, and click on "Measure." Next week, we'll turn our attention to the Reading Stamina Log on the first sheet.
The real power of this document is getting it out to the students and streamlining one aspect of the evaluation process to allow me more time to conference on their progress as readers and learners. After receiving a refresher tech session on Doctopus recently by English teacher/tech star/ICTE presenter/NCTE presenter Erin Miller, I used Doctopus to send the spreadsheet to each student. It's easier to show than to describe, so here's a link to a 3-minute video on sending the Reading Stamina Log to students.