Who We Are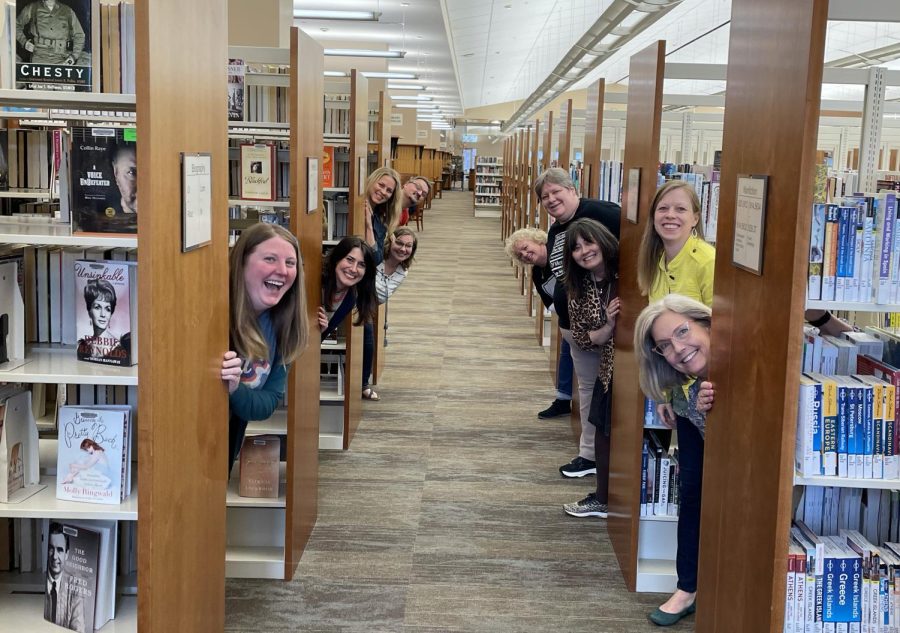 The Iowa Council of Teachers of English is the volunteer organization that facilitates deep connections and professional learning face-to-face and online for English/language arts teachers of all stages.
Our website's mission is to provide information for our members and for any educators interested in our work, forming a community that allows for purposeful connections for ELA teachers to grow as professionals.
Join/remew the Iowa Council of Teachers of English by filling the form beow. (It's FREE!)
Our organization provides the best English teacher professional development in the state with nationally revered speakers and current trends in education at the annual Fall Conference, as well as smaller opportunities at EngCamp and at writing retreats. We provide social media connections in our Instagram, Facebook and Twitter  pages, as well as our private Facebook group for members. We also provide support when books and curriculum are challenged. Together, we strive toward excellence as an affiliate of NCTE!
Meet your Executive Board members:
President 

Nikki Smith is a high school English teacher at Urbandale High School and is currently in her twelfth year of teaching. She loves the new challenges and celebrations teaching offers every day.  Teaching allows her to combine all of her passions: reading, writing and children. She loves the new challenges and celebrations teaching offers every day. Nikki thrives on the professional experiences and opportunities provided through ICTE and the Iowa Writing Project as means to grow as a teacher, learner, and writer.  She and her husband, Casey, are parents to their daughter, Mila and another daughter due in December. She sometimes blogs about teacher narratives at theoneaboutteachingenglish.blogspot.com and can be found on twitter @MrsSmithUHS.
Past President

Haley Moehlis teaches at Valley High School in West Des Moines and spent the first twelve years of her career at Roosevelt High School in Des Moines. She teaches Fundamentals of Writing and Modern American Literature with rotating elective courses (Creative Writing and Independent Literature Survey). She is married to an infinitely patient man as they do their best to corral four children who are equal parts sweet and challenging. She loves to write terrible poems in her pop-up camper (that is perpetually set up in the driveway — a writer's retreat, but a poor one, as the children don't have to work hard to find her). She loves: her family; laughing with friends; coming up with grand ideas that never come to fruition; Pilot G2 .38 pens; writing letters; the moon; sewing, painting, and all things crafty; sunrises; the woods; Mary Oliver; reading in the hammock; and the brilliant collective that is ICTE.
Co-College Liaison

Dr. Chris Nonhof teaches in the English and education departments at Northwestern College in Orange City, Iowa.  Prior to moving to Iowa, he taught high school English in both Florida and Wisconsin.  He loves to travel, hike, cross country ski, kayak, spend time with his family, and read (cookbooks, memoir, spiritual nonfiction, and depressing European existentialist plays are personal favorites).  If he's not doing one of those things or in the classroom, he's likely napping on a couch or ransacking the house for good dark chocolate.
Co-College Liaison

Kim Van Es is an Instructor in Education for Northwestern College and owner of Kim's Writing & Editing Service. She taught high school and college-level English for over 25 years in SE and NW Iowa. Kim is passionate about YA lit, grammatical choices, personal and political writing, and most anything that has to do with words. Distance running gives her time to listen to books or percolate writing ideas. She loves bringing preservice English teachers to the ICTE conference and hopes to see growing numbers of this population attend.
Conference Co-Chair

Deneen Nelson teaches 11th & 12th grade English, Spanish, and (some years) German at St. Ansgar High School in rural northern Iowa. She received her undergraduate and graduate degrees in English Education from UNI and has been teaching for eleven years. She loves working at a small school and feeling like an integral part of the community. When she's not at school, she can be found with a book in hand, a child on her lap, and a lukewarm cup of coffee nearby. She has been attending ICTE's annual fall conference since she was a student at UNI and is excited to give back to the organization through her role as this year's Conference Co-Chair.
Executive Director

Dr. Donna Niday coordinates the English Education program at Iowa State University. She teaches young adult literature, English methods courses, and a graduate literature methods course, as well as supervising student teachers. She is a co-author of three books about mentoring beginning teachers. Previously, she taught middle school and high school English. Her interests include reading and traveling, and she never grows tired of either! She has been involved in ICTE for many years and has enjoyed seeing the organization grow and change. She encourages all teachers to actively participate in making the educational profession even stronger.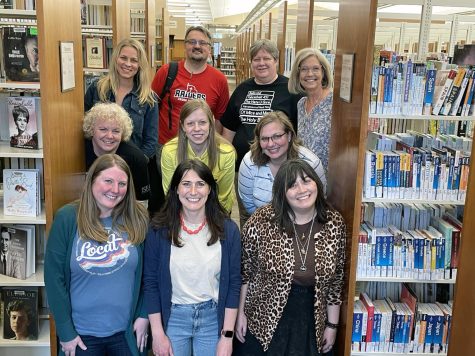 NCTE and Professional Organizations Liaison 
Kirstey Ewald has served on the ICTE executive board for 18 years.  Currently, she works as a school improvement consultant at Central Rivers AEA.  Previous to this, she taught in a high school English/language arts classroom for twenty years.  She says, "I'm an ELA teacher who just happens to be serving teachers and students through the lens of my school improvement work.  I most love the times in this position when I'm able to collaborate directly with teachers who are thinking about how to enhance their classroom practice and increase student learning through a new instructional framework.  That reflection about the need to change and the willingness to take a risk is the heart of learning."  When she's not driving her car across the state to support districts, you'll likely find her binging on TV shows via Netflix or Hulu, enjoying a live music show somewhere, or — no surprise here — reading a book.  Reach out to her on Twitter, @KirsteyELA, and/or through old-fashioned e-mail: kewald@centralriversaea.org.
Publications Co-Coordinator 

Allison Berryhill teaches at Atlantic High School. Allison taught in Exira and Audubon before taking a 14-year hiatus to raise her six children with farmer-husband Dan Hoegh. In 2003 she joined the staff at Atlantic High School where she advises the journalism program and teaches freshman English and creative writing. She is the chair for NCTE's Public Language Awards Committee, which selects the recipients for the George Orwell and Doublespeak awards.  She also serves on the board of the Iowa High School Press Association. She is also an accordion player, a front-porch poet, and a wedding officiant.  Follow her at @allisonberryhil  for photos of #IowaSky and schoolblazing.blogspot.com for random musings.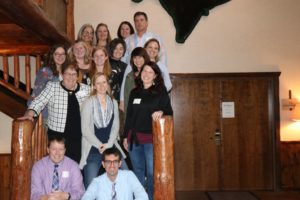 Publications Co-Coordinator

Lauren Stephens teaches at Dike-New Hartford High School. Lauren will be entering her fifth year of teaching Creative Writing, Yearbook, Individualized Reading, English II, and English IV. She spends most of her time outside of school running the Cedar Valley trails with her husband, reading historical fiction, and planning her next vacation.
Recognition Coordinator

Colleen Flathers is a high school  Language Arts teacher at Central DeWitt High School in DeWitt, Iowa. Currently, she primarily teaches 10th grade but also teaches a second chance reading class to incoming freshmen. She is starting her 17th year at CDHS and really enjoys getting students back into reading.  Colleen along with her husband Kurt is currently trying to navigate the empty nest syndrome after having children at home for 26 years.  In her spare time, Colleen enjoys reading, scrapbooking, attempting to blog (Musings of an old English Teacher), and playing with her two cats Sox and Tabitha.
Secretary

Lezley Johansen resides in beautiful northeast Iowa and as of 2022 has been teaching 20ish years. She has taught at two northeast Iowa schools: Valley Schools (now North Fayette Valley) and Turkey Valley Schools (currently employed). Lezley works with students grades 7-12 and is particularly invested in helping students recognize the benefits of being an engaged reader. She has a passion for all things library. While she currently works as an ELA teacher, she is also a certified teacher-librarian and has worked in that position. She has been a trustee on her local public library board and had part time positions at area public libraries. Lezley is embracing her empty next life with her husband of 30+ years.
Treasurer 

Melanie Wirtz teaches 8th grade Language Arts at Peet Junior High in Cedar Falls. She is a National Board Certified Teacher with a passion for creating a love of reading in her students and helping students grow as writers. Melanie has taught 7th – 12th grade and loves the energy that comes with junior high students. She is also an active member of ISEA and NEA, working hard to ensure teachers' voices are heard in the community and by our government officials.  Melanie lives in rural Cedar Falls with her husband Scott and son Carson. Melanie loves to bake, read, and spend time working in the yard.
Website Coordinator

JoAnn Gage, teaches English and journalism at Mount Vernon High School. She advises Mount Vernon's news website and yearbook, is a National Board Certified Teacher, an MJE in the Journalism Education Association and is actively involved in the Iowa High School Press Association. Her courses include AP Literature and Composition, Mystery Stories, 21st Century Journalistic Writing, English I, and Publication & Design. JoAnn enjoys taking photos of her husband and two sons, who do not enjoy having their pictures taken. You can find her on Twitter at @joann_gage.
We are the Iowa affiliate of the National Council of Teachers of English. Join NCTE today!
---
We are dedicated to intellectual engagement, collaboration, and excellence.
In a November 2012 TEDx Talk, John Green explains where the title of his third novel came from, and he illuminates the history behind the fictitious town of Agloe, New York. Green explains that what two cartographers fictitiously created in the 1930s became a reality when developers built a general store on the cartographers' site and named it Agloe General Store in the 1950s.
Green describes Agloe as "an irresistible metaphor to a novelist, because we would all like to believe that the stuff we write down on paper can change the actual world in which we're living." As English/language arts teachers, Green's idea of writing changing the world through writing is irresistible to us as well.
At the end of his TEDx Talk, Green talks about the ability of the Internet to provide "places for intellectual engagement" and community. Green says: "When we invented Agloe, New York, in the 1960s–when we made Agloe real–we were just getting started." So welcome to the Iowa Council of Teachers of English website, a place dedicated to intellectual engagement, collaboration, and excellence.