ICTE wins NCTE Affiliate of Excellence Award for Second Year in a Row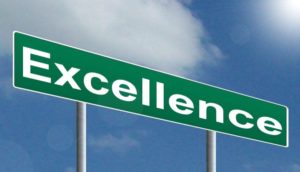 Congratulations, my friends! You did it! For the second year in a row, the Iowa Council of Teachers of English has been recognized as one of eight NCTE Affiliates of Excellence!  What I love most about our organization is that everyone in it recognizes excellence as a pursuit rather than an arrival point. We are always seeking to improve, to innovate, to serve our membership in whatever ways they seem to need. Our affiliate is a thriving group of people striving to support each other, try out new ideas, and solve problems together. I could not be prouder to celebrate you!
As I wrote our annual report and application for the award, I got the chance to review what we've accomplished and where we are headed. I wanted to share with you some of the highlights.
Facebook Group: Our membership was at 309 a year ago. Today it stands at 437. That's a 30% increase! This is consistently the kindest, most generous, most interesting place I ever visit on the Internet. Thank you for creating such a happy place for professional growth and reflection!
Special Interest Facebook Groups: As people have expressed a need or desire, offshoot or special interest Facebook groups have formed tor collaboration and support: Teachers of Freshies, AP Language & Composition, Iowa Teacher Leaders, Iowa Writing Project, Clutter Beasts, Iowa GSA Advisers, Educators, & Allies. You name it and we have a group of people out there. If we don't, we'll form one or find one! Check the pinned post or the description for more information about these groups.
Website: Teacher Writings Initiative –We remain committed to the idea that writing teachers write. We created this initiative, initially out of an EngCamp session, to give our teachers a forum and voice, to create content for our website that doesn't come from the executive board, and to practice what we preach by modeling it!  They will be posted on Tuesdays. Here is a link to Missy Springsteen-Haupt's personal blog post about the initiative. If you have an idea for writing, here's the Google form: Teacher Writings Google Form
Website: Teacher Feature, non-traditional recognition by awards committee –At our annual retreat in April, the awards chairs Haley Moehlis and Austin Hall, created this idea to recognize our members in ways other than traditional awards, kind of like the student of the week. This initiative is just beginning and we want to promote camaraderie, so be sure to submit your information!  Teacher Feature Google Form
Thank you to our Website Coordinator, Darin Johnson, for all the behind-the-scenes work in WordPress! You make our public "face" look awesome!
Twitter: In addition to our usual Twitter postings by Allison Berryhill and Missy Springsteen-Haupt, our Social Media Coordinators attempted an #ICTEchat for the first time.  We hope to create more opportunities for this in the future!  Great end of year engagement!  Check it out here: Twitter Chat Storify Link.
I could go on and on recognizing the great work you are all doing, visibly and behind the scenes, to create this awesome organization. But I will save a few highlights for my next post!
EngCamp is coming up August 1 in Ames. Kudos to Brenna Griffin for all her work coordinating this and assisting the conference chair in the fall as well. The Annual Fall Conference is October 6 & 7 in Johnston. Kirstey Ewald and her committee have been hard at work creating a meaningful professional learning experience for you. We welcome Sara Kadjer and Donalyn Miller as our keynote speakers. If you are in your first five years, you can apply for a scholarship to attend! While you are there on the website, be sure to nominate an outstanding colleague for an award!
Looking forward, I have three personal goals in my remaining tenure as your president:
Grow Teacher Leaders: Invite and support leadership development

Invite Diversity: Be more intentional about seeking culturally diverse, inclusive membership and leadership

Invest in Youth: Reach out to and support college affiliates and pre-service teachers
There are many ways to grow leaders. I've created a menu of opportunities for leadership in the ICTE organization, and I invite you to complete this quick Google form to indicate your interest. You may not believe it, but I did not imagine myself leading this organization when I joined back in 2000. I came to the conference because I was invited along by a colleague. I got involved in organizing the conference because I was invited to by a colleague. Consider this your invitation! I believe in your ability to learn and lead. Please invite others to join you!
As always, please let me know of your questions and concerns at [email protected]
Enjoy your remaining days of glorious summer!
My best,
Jenny Cameron Paulsen
ICTE President