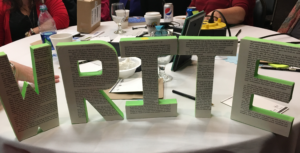 The post-conference adrenaline slowed down somewhere on the 90-minute drive home along I-35 on Friday evening. My mind was already racing ahead, thinking of the digital stack of papers awaiting me in Google Classroom, and the 52 student emails I'd somehow racked up during my absence. As always in the teaching life, the immediate was creeping in to take over the important. The ICTE Fall Conference deserves more real estate in my mind than the two day sabbatical it provides from school. Now that papers have been tackled and emails handled, and thoughts of ICTE are working their way back in.
"Doing the verb to be the noun." -Sarah Kajder
What better justification for workshop than this simple sentence? So often in my career I've had to justify my choice to run writer's workshop model in my classroom, feeling a sense of guilt that students do their writing in my classroom as opposed to assigning it as homework. In the past few years, I've separated myself from the guilt, knowing that I'm doing what's best for developing writers. The clear, honest words from Sarah encourage me to keep on the path.
"No one can create time. Repeat after me." -Brenna Griffin
Sitting in Brenna's session on Radical Routines, as she led us in repeating this mantra out loud, I felt one step closer to assuming responsibility for my own chaos. I take her words and suggestions to heart, knowing that her one-step-at-a-time philosophy will help me once I stop thinking I can bend time and space to my will.
"If you are looking for a marigold, this woman is a field of them!" -Haley Moehlis
Dear friend and fellow marigold, how can I ever thank you for your kind words? I will try to live up to them by making those around me stronger, even in the moments when I feel I barely have strength for myself.
"I teach middle school." -Me
Because no moment in my life is so sacred or special that I can't find a way to make it awkward.
"Where are the people who look like me?" -Rafael Benitez
My biggest fear for the IWP session I co-led on "Teacher as Writer" was that no one would want to share their writing. As with so many of my assumptions, I was wrong. One of our first voices was from first year teacher Rafael. His words spoke a truth ICTE has been wrestling with for years. Our conference is so white. Our Iowa teachers are so white. Our students aren't. They deserve better, and we need to do better as an organization to reach out to and encourage a diverse teaching population.
"What does the Iowa Writing Project provide for teachers?" -Dr. Jim Davis
It would be easier to describe what IWP doesn't provide than to list everything that organization has given me in the years since I first walked into a Level I. It amplified my passion and my teacher voice. It gave me the research I needed to back up the pedagogical choices I made in my classroom. It forced me to be reflective along every step of the way. It's not enough to think you are a good teacher of reading and writing; IWP ensures that you know the truth of your work, even when you don't want to face it. The Project is not just a place I trust for quality classes; it's a lifeline in this profession.
<Redacted>
I love this conference for the learning, inspiration, and conversations. But I love the Club Room with my tribe just as much. So many new people found their way down to the Room of Requirement this year. Staying up five hours past my usual bedtime is always well worth it. Liz Huggins, you were sorely missed, but Ian did well. He's a keeper! Kristina, I'm so sorry we had to be in Des Moines to have an actual conversation when we live and teach in the same community. Nora, please continue to use me as a resource if you ever need it. I remember so vividly that first year of 8th grade on a block schedule. It gets better, but not without more than a few tears.
"We are in the hope business." -Donalyn Miller
Yes, we are, which means that we can't be the hopeless ones. I'll try to remember this when I feel like there's no hope left.
"I am humbled and honored to receive it from my tribe. I love them hard." -Kirstey Ewald
Kirstey, I never would have found this tribe if it weren't for you. Through IWP, you brought me to the well and allowed me to drink it in. Your influence on my professional life and development as a teacher is nearly impossible to quantify. I can't ever repay what that means to me, aside from attempting to bring others into the fold the same way you did for me in those early years.
"Raise the cats!" -Allison Berryhill and JoAnn Gage
Allison could talk about mold and I would listen in rapture. The perfect balance between her and JoAnn created an electrifying session on class discussion. I know I'm a North. Thanks for forcing me to listen to what other discussion-preference types want me to know.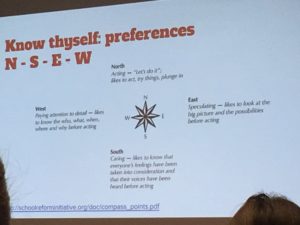 "Let's talk about this for a minute." -Allison Berryhill
The moments at ICTE when I can sit and talk something out with Allison are invaluable. How does she always seem to know exactly what I'm thinking? I am so lucky to have a long-distance thinking and teaching partner in this force of nature. Thank you for continuing to shine your bright light in my life.
When I tell my principal each year why it's so important for me to attend ICTE, I say it's the professional development. That's not a lie. I engage in more professional conversations during the two days of ICTE than I might have in two months in my own building. ICTE provides a positive, critical space for me to think with other like-minded people. That's not to say we always agree. ICTE provides space for all aspects of English Language Arts and ELA teachers to mix into a stew of reflective thinking and learning. We are not just English teachers; we are the die-hards, the ones who battle to be in this space at this time. But that's not really what keeps me coming back year after year.
Equally important to any of the learning that takes place are the relationships that ICTE creates and fosters. I will go back to a building on Monday where I am the only writing teacher for the entire district in 7th and 8th grades. I will go back to a place where it is so easy to feel alone as a passionate teacher of writing. The ICTE Fall Conference gives me the reminder that I am never alone. There's a whole tribe of people who support me and my passion for teaching English. This network extends beyond the two days in October when we meet in person, and fuels us until we meet again.
Missy Springsteen-Haupt teaches middle school language arts. She blogs about school at themrshauptsteen.weebly.com