Illuminated by Illustrations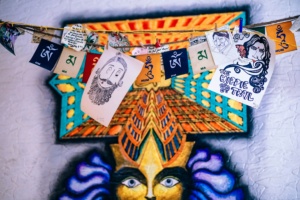 In the past three years, my position in the English/Language Arts department has changed quite a bit. Long story short, I am now the Reading Specialist for the middle school. I teach a variety of classes, including one section of sixth grade Reading, one section of a reading elective for seventh graders called Books and Beyond, and the same reading elective (with completely different materials) with eighth graders. Also, due to some faculty changes, there was a hole at the high school, which I am filling this year. For the first semester, I taught Creative Writing. For third quarter, I taught Genre Study: Graphic Novels. Now, in fourth quarter, I'm teaching Genre Study: Minority Literature.
I have definitely learned more about reading, writing, and teaching every year of my seven years. However, I am amazed at how much more I learned about reading this year. It might be a skewed perspective as it is the most recent and freshest in my memory. However, there are texts that I have never read before or used in the classroom. In addition, my use of Standards Based Grading (technically Standards Referenced Grading) has helped use texts differently.
It is super hard to encapsulate all that I want to share in this short article, but I thought I would give the highlights. It is mostly my high school electives that have given me inspiration for my seventh and eighth grade. Prior to Genre Study: Graphic Novels, I had not read one myself. I had considered myself a traditionalist about reading – real reading was out of novels, and those novels should have the minimal amount of illustration, if any at all. Comic books were reading but not of the academic type. However, after one quarter of teaching this genre exclusively, my perspective has done a 180. I now use graphic novels often, and I have been recommending them to several students, especially reluctant readers.
For my Genre Study: Graphic Novels, we read Beowulf by Gareth Hinds and Inside Out: Portrait of an Eating Disorder by Nadia Shivack as whole-class reads. Thanks to some online materials as well as my own expertise as a teacher and reader, both novels allowed us to discuss the storyline but more so how the story was put together and how the author choices affected the story's meaning. With graphic novels, there are so many visuals to consider and "read." We mostly focused on Reading Literature Standards 11-12.3 and 11-12.5. However, there are other standards, including the highly utilized IA.1, that easily connect to graphic novels.
Wanting to give my seventh and eighth graders a taste of graphic novels and how to closely read them, I incorporated parts of Beowulf and excerpts of other novels that I have on my personal bookshelf. I soon found out that the younger students were much more open to graphic novels, and they had observations and responses that rivaled my high school students'. It was a pleasant surprise and caused me to truly reflect on my texts for middle school.
I am, by far, no graphic novel expert, but I know they can have a place in any English/Language Arts/Reading curriculum. I will admit I was a hesitant teacher at first, but now I cannot go a day or two without using them or recommending them. Before signing off, I will give a few titles to help guide others. One graphic novel that every student has ended up enjoying is My Friend Dahmer by Derf Backderf. Yes, it is non-fiction about Jeffrey Dahmer as a teenager. Derf Backderf has another, more adult one, called Trash: An Ode to the Crap Job of all Crap Jobs. I do not recommend it for middle schoolers unless their maturity level is high. Tomboy by Liz Prince and Stitches by David Small are both memoirs that students have enjoyed.
Graphic novels do have a place in the classroom. They have several benefits for any reading class or program. I have already ordered one for my Genre Study: Minority Literature. I implore you to add the graphic novel genre to your curriculum or list of ideas for next year.
LeAnn Smith is the Reading Specialist for Charles City Middle School. She's a lover of the fall ICTE conferences, part of the 2013 TESS cohort, bibliophile, and creative writer, when time allows.