Book Review:  "Solo" by Kwame Alexander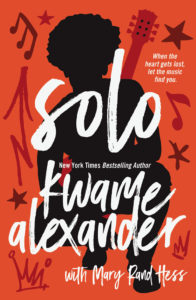 Book Review:  Solo by Kwame Alexander
Released August 1, 2017
For those teachers and readers who fell in love with Crossover and Booked, the prospect of a new book by Kwame Alexander can make their hearts flutter at the mere thought.  A few months ago, I was fortunate to get my hands on an ARC of Solo, the new book by Kwame Alexander and Mary Rand Hess, and I think it is a masterpiece on a whole separate plane of existence than his other work.
I was fortunate enough to travel with my friend (and amazing school librarian) to meet Kwame Alexander when he was in Cedar Rapids this summer to hear him speak about his life and work. He was surprised to see me holding a copy of Solo in the audience and he talked about how this book explored very similar themes of his other works:  the relationship between a young man and his father, discovering your identity despite obstacles, how a gift (athletic or musical) may define our character, how art (literary or musical) can help heal wounds.
This verse novel is very different than his other books; however, most notably in the intended audience.  Solo is written for an upper teen audience and above (I'd recommend for Ages 15 and up or mature readers), as it does discuss typical teenage experiences including alcohol consumption, drug use, and sex.  
What sets this work apart, though, is the emotional heaviness of the journey that Blade encounters on his journey to discover his identity, forgive/reconcile with this father, wrestle with love, and express himself through his remarkable musical talent.  Blade has lost his mother before the book begins, and we can sense that this loss has fractured his ability to hope and aspire for his future.  His father, a music legend, should be a heroic icon to the similarly talented Blade, but instead, makes choices that continue to disappoint, embarrass, and exhaust his son.
This conflict sparks conversations that lead to the central mystery of the book and a global journey to Africa for Blade, who we watch become a wise and cultured man through these pages.  
Artfully peppered with chapter titles that express a multitude of musical allusions to delight older readers, Solo is a masterpiece that would be perfect for any high school classroom.  It is the perfect continuation for the thoughtful educator who worships Alexander for what he has done to open up reading to so many reluctant readers (and enthusiastic readers, too), though his talent.
Britt Jungck teaches sixth-grade literacy at Bunger Middle School in Waterloo.