Firing Up for the Fall Conference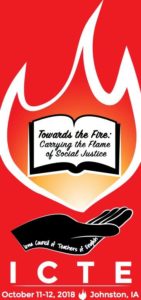 By Nikki Smith and Kirstey Ewald, ICTE Fall Conference Chairs
ICTE's annual conference has always felt like coming home. It hits at the perfect time of the school year as teachers are just starting to lose the beginning-of-the-year excitement. We know it rejuvenates us with new ideas and practices to take back to our classrooms and districts. It reconnects us with our tribe who show us we're not alone.
This year, we are honored, and maybe a little overwhelmed, to be part of the behind the scenes work to create this experience for others. It's a daunting task, making sure this conference lives up to the expectation and precedent set by previous conferences that have inspired us. It's important that we provide meaningful learning opportunities for our attendees, for we know this is some of the best professional learning tailored especially for those facing the challenges of teaching literacy in their classrooms. It's also the place people wait for all year long for the chance to make connections with other teachers across the state.
While attending NCTE in St. Louis last November, there was an urgency in the air. Fellow attendees were eager to talk about the issues in the classroom that impact their students and their profession. Standing in line to get into the exhibit hall, we overheard teacher after teacher talk about how the expectations for their job continued to increase. And while this work is something they found rewarding and important and even magical at times, that magic was something they felt was overlooked within the current social climate. They felt like they had no autonomy within their classrooms, no outlet to directly influence the system, no way to garner the respect they'd earned through the dedication to their craft.
But teachers aren't selfish by nature. They think about the others impacted by the world around them; in particular, they think about their students. Images of these kids were ever-present in their minds as they connected and learned with others. And when they talked about themselves being in a precarious place within society, they couldn't help but think about the students who also felt the same way — without control over their circumstances, without voice to express their concerns, without avenues to better their situations. Yet there those teachers were, still hopeful and passionate about the ways literacy could light a pathway to a more promising future for them and their students.
We left reminded that the work we do day in and day out in our classrooms matters. Right now. Inspired by this call, we wanted to capture and bottle some of that energy for our Iowa conference. We know that you're serving students in your classrooms who are struggling with more pressures than ever before. We know there are children facing the real challenges of mental illness. (Hell, some of us are, too.) Some students go home to poverty, food insecurity, and unpaid bills. Others feel like their race, gender identity, and sexual orientation makes them the outsider. We also have students examining the roles and boundaries of appropriate and inappropriate sexual advances. Yet many students are bullied for all of these issues and so much less on a day-to-day basis.
We felt like these tough issues, these tough conversations, were ones we needed help having — not just with each other, but also with our students. How do students find the right words to address these issues with honesty and sensitivity? What is the best approach for teachers to take in order to create a respectful dialogue that allows for discord? Society has charged educators with the formidable task of confronting these uncomfortable topics in our classrooms.
Thus, we've chosen "Towards the Fire: Carrying the Flame of Social Justice" as our conference theme this year. We're coming to this place we call home, this conference that provides us all a safe place to learn, to spark this conversation about social justice. We hope we can all find ways reading, writing, words, and stories can heal and highlight the injustices we may hide or ignore out of our own discomfort. And we hope you'll leave having moved towards the fire, your teacher heart warmed with the passion and intensity needed to change your corner of the world.
Join us by registering for the conference here: link to registration
Kirstey Ewald currently works as a school improvement consultant at for Central Rivers AEA. Previous to this, she taught in a high school English/language arts classroom for twenty years. Her ELA heart keeps a-beatin' inside her, and she always has her literacy lens out there on the peripheral when she's working with building teams. When she's not driving her car across the state to support districts, you'll likely find her binging on TV shows via Netflix or Hulu, enjoying a live music show somewhere, or — no surprise here — reading a book.
Nikki Smith teaches English at Urbandale High School. She has previously taught for Colfax-Mingo schools. Teaching allows her to combine all of her passions: reading, writing and children. She loves the new challenges and celebrations teaching offers every day. Nikki thrives on the professional experiences and opportunities provided through ICTE and the Iowa Writing Project as means to grow as a teacher, learner, and writer. She and her husband, Casey, are new parents to their daughter, Mila. She sometimes blogs about teacher narratives at theoneaboutteachingenglish.blogspot.com or can be found on twitter @MrsSmithUHS.