Libraries, Readers, and Community: Let's Build All Three!
Some advice for implementing and refreshing classroom libraries.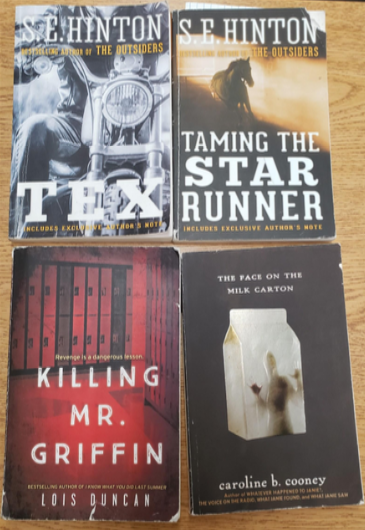 A classroom library is critical to creating readers and community.  So whether you've built a library with high-interest reads that have stood the test of time or if you're new to the district and have inherited who knows what, if anything, it's sometimes nice to know how to spice up what you have or even where to begin. 
The following will hopefully guide you on how to supplement what you have or start strong.
Don't be afraid to use older books. 
Lois Duncan's novel Killing Mr. Griffin came out in 1978. Caroline B. Cooney's The Face on the Milk Carton hit shelves in 1990. S.E. Hinton's novels span from the 1960's throughout the 80's. And yet kids don't know that these books are old. We know that, but that doesn't mean older books aren't still good books. Much of this battle starts with the cover. I inherited a hodgepodge classroom library primarily of books with dated covers (these books found out who shot JR and discussed whether Ross and Rachel were right for each other). I started by getting the latest and greatest, but then I remembered some of the classic books I had heard about. These books have come out with new editions (and new covers) and have consistently been some of my students' favorites. Authors like Will Hobbs, Gary Paulsen, Robert Cormier, Rodman Philbrick, and Chris Crutcher still get plenty of attention in my class. You can also ask veteran teachers what books used to be popular or what books they enjoyed as teens.
Kids have no problem reading down.
The genre is Young Adult, but dang, these aren't the old stories where cigarette smoking was taboo or a kid saying "Damn" would give readers the vapors. YA books today talk about some hard (and important) topics: drug abuse, racism, rape, sexual assault, divorce, suicide, mental illness…and that's just the first few chapters. Some kids eat this up, others aren't ready either as readers or as students. That said, don't be afraid to have lower-level books. Again, we know that that sophomore is reading junior high books, but the student doesn't – they're just reading. And that's the point: they're reading. 
There's really no guaranteed hits with books.
This part is probably the worst. Budgets can be tight meaning each book has to be – MUST be – an instant hit, only for it to just sit there. It could be a book that you think every kid will love, like Conrad Wesselhoeft's Dirt Bikes, Drones, and Other Ways to Fly, and kid after kid returns it with "Got anything else?" I remember shopping at Half Price Books and my wife brought me Rachel Carter's So Close to You. Honestly, I thought it looked kinda dumb, but I didn't want to come off snobbish (only I know YA literature) so I tried it out. I now have multiple copies, the other two books in the series, and it still is one of the most checked out books. Lesson here: I have no idea what I'm doing.
General tips (in no particular order)
Time and again kids say they like suspense, horror, mystery, action, and murder – the real page turners.

If you're looking for lower-level books that still deal with important topics, try looking at Orca books. These books are short, cover many topics, and showcase a wide variety of hobbies like the arts, dance, and cars.

Ask your kids. Ask what good books they've read or what topics they want to read about. I'll also have kids write down three of their hobbies.

Know your kids. Many times I'll buy a book with a kid in mind. Chances are good I'll have another student with similar interests down the road. It also strengthens the relationship between you and that student. 

See what moves and what doesn't. Historical fiction doesn't move for me, so I weeded.

What works for you might change for others. Historical fiction didn't work for me, but it might work for you.

Check with your local libraries for sales. A nearby library had a sale wherein whatever books you could fit in a grocery sack cost a whopping 25 cents. Also check out Thrift Books, Half Price Books, or your local bookstore. Many bookstores also have educator discounts.

Buy books like you're 13. Many times I wrinkle my nose at a book because the story sounds cheesy or the cover looks dumb. But I'm 30. My students are 13-16. You're buying for them.

Other great places to find books: Cybils awards, TikTok (there are loads of English teachers, librarians, and book lovers), and the fine folks at ICTE.

Don't forget your marginalized voices. Include all sorts of voices and experiences in your library.
Some "go-to" authors and books that consistently work (for me, anyway)
Natasha Preston's books

Allen Zadoff's "Boy Nobody" series

Anthony Horowitz's "Diamond Brother" series

Alan Gratz's books

John Green's books

Paulo Bacigalupi's

Shipbreaker

Mindy McGinnis'

Heroine

David Levithan's "Everyday"

series (seriously, buy three copies)
Excellent teacher books about reading
Kelly Gallagher's

Readicide

Penny Kittle's

Book Love

Mary Leonhardt's

Parents Who Love Reading, Kids Who Don't