Summer Reflection
Sifting through boxes…and priorities.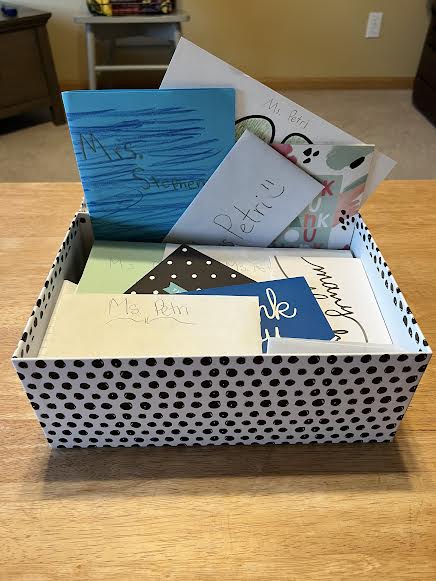 At some point each summer I sit down with the boxes I've collected important parts of my life into and the drawers I've indiscriminately filled with anything and everything throughout the school year. Part of this standing appointment I have with myself is to make sure I'm shredding unnecessary documents and throwing out expired coupons, but the more enjoyable portion is rereading and organizing thank you notes I've kept from students and students' parents over the past seven years.

This year I am slowing down as I read. The tread on my stamina has never been quite so thin, and aside from what I recognize as general wear and tear of a school year, I know I need to care for myself differently this summer if I want to move into next year with the energy and joy I want to feel in my job. My students' words reorient me. While their words are uplifting, I'm also painfully aware of where I've fallen short this past year as I stepped into a new school district and grade level. My new 8th grade classroom can't look like my 12th grade classroom. However, what my students value is consistent no matter the grade level, and I hope with adjustments I can push those values back to the forefront of my decisions as their teacher.

1. Time to read and choice in what they read

Giving time and choice is the easy part. It's the behind the scenes work that can feel a bit like a long distance race. Collecting and finding affordable books students will actually want to read, organizing and maintaining a classroom library, conferencing with students in a meaningful way, finding new and novel ways to build a classroom community that is excited to read, and actually reading enough YA lit to recommend books to students is where I start to lose some steam. Next year I hope to have my students use bookopolis.com as a way of tracking their reading throughout the year. It's essentially Goodreads for students, and teachers can even create classroom communities so students can see what their peers are reading! Ideally, having students record their own progress and share book recommendations without me prompting them will lighten my load.

2. Validation of their identity as writers

Our students don't always know what their strengths are as readers and writers, or they don't trust their own opinions of those strengths. Helping a student name what they do well as a reader and a writer is infinitely more impactful than helping them label their deficits. I struggled with this a lot this year. Having 140 students is no joke when it comes to a quick turnaround on feedback. In the past, I've just accepted that my weekends were not my own- they belonged to student writing. Now, my mind and my body rebel when I try to slip into this attitude. I still don't quite have an actionable plan for this challenge, but I think I need to build in several shorter writing pieces that provide a great deal of choice at the start of the year. I want to build their confidence quickly and honor the risks they are taking. If their pieces are shorter and if I stagger the due dates for feedback, I think I can make it work. In the past I have had students sign up in "waves" for feedback. This gives students some flexibility in their writing process and gives me some flexibility in response time.

3. A kind and encouraging attitude

I have always been envious of people who have energy and warmth leaping from their body language and words. I can be that version of myself, but not without effort and the promise of alone time at the other side of it. In general, I tend to be mild-mannered and resistant to being at the center of attention. In the past I equated being extroverted with being a good teacher, but based on the generous words of former students, they didn't need that from me. They needed me to value their interests, listen with patience and empathy when their worlds began to bubble over, and recognize their strengths when their inner voices couldn't.

As tempting as it would be to lament over this past year's challenges, I really don't want to spend my summer that way. I want to find ways to prioritize what I know matters in my new environment. I also think it will benefit me if I slow down and name what I'm doing well. Like my students, I tend to improve when I know I'm not building from scratch. Each letter I read tonight reminds me of the foundation I've built.