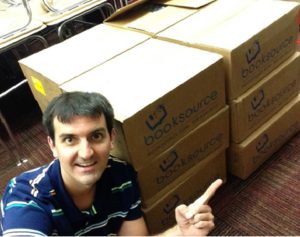 By JoAnn Gage
Austin Hall said reading Book Love, Penny Kittle's text for teachers offering insight to cultivating a passion for reading among adolescents, shaped him as a teacher.
"I fell in love with her approach," said Hall, an English teacher from Dowling Catholic High School in West Des Moines and winner of the 2016 Book Love Foundation Grant. Now, with a classroom library provided by the grant and a senior reading elective inspired by Kittle's work, over 200 seniors are developing an infatuation with reading.
Hall was awarded $3800 in August, and with the grant and a 35 percent discount from Booksource, he was able to purchase over 500 books of varying genres for his class. He offers an elective called Strategic Reading which has become so popular that half of the senior class at Dowling is enrolled in it. The magic seems to lie in the fact that students are allowed to select their own reading, and they are provided class time—a half hour per day—to accomplish this surprisingly enjoyable task. Reading for pleasure seems to be a revolutionary idea in school, but Hall's experience shows that giving time and choice to students results in increased reading fluency and comprehension, not to mention promoting a lifetime hobby and skill.
Through conferencing with 4-5 students a day, Hall keeps track of the books they read, helps them set and meet goals, records reading rate, and learns about the books students are reading as well as their feelings about those books. "I record how they feel about reading the second week of school and play it back for them later in the year," Hall said. The contrast is powerful.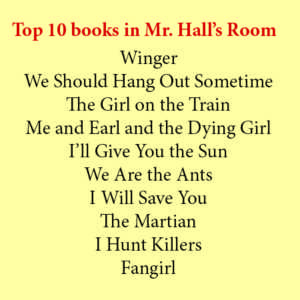 Hall sets different goals to meet the needs of each student. For example, one girl in his class, who happened to be a skillful reader, said she didn't like many of the books she had been assigned in other classes, so she rarely finished them. Hall's goal was to get her to complete a book as soon as possible.
Assessment in the Strategic Reading class differs from many English classrooms in that there are no quizzes, tests, or packets of worksheets to fill out. Hall says that he emphasizes goal setting and reflection. He tracks learning through book talks delivered by students, small-group discussion, student-teacher conferences and written responses. The course culminates in a final project: a 5-8 minute presentation about three books the student read grouped by theme and a formal written reflection of the student's reading growth throughout the semester. He follows Kittle's belief that we teach students first, then curriculum.
Students in Hall's class read at their own rate, and average about 9.7 books per semester. He was gratified by the "shelfies" students sent him of their reading, as well as thank you cards and emails sent at all hours.
"We make time for what we value, and if we value reading, we make time to do so," Hall said.  But when time isn't enough, he also has some tricks stacked on his shelf. Hall said that he has teachers of other disciplines present about books they enjoy. "Guest book talks by faculty who are mostly not English teachers reinforces that all teachers are readers," said Hall.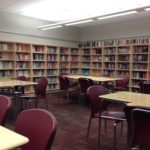 Another way Hall helped match students with books was celebrating banned books week with a guessing game. He covered the jackets of the books and wrote on them only the reasons they were banned.
It's important for students to find books they enjoy, but they also need to be pushed to try new things. When students are assigned to find a different genre they don't think they like, Hall said it's his job to find a book that bridges the gap. For example, the humorous book The Martian can get a student to open up to reading science fiction.
However, when students should move on to a different book because it's just not working out, Hall has an answer for that too: He rewrote the song "Let It Go" with lyrics about abandoning a book, showing students that they shouldn't take it as a failure or dwell on the disliked book.
Although some pitfalls to the course are that it has not received NCAA "core course" approval and the requirements of it are taxing on the teacher's pocket book and time, Hall knows the value of his Book Love elective, and the student signups show its worth to teens.  "I've really invested in it," Hall said of his classroom library, which he built up for years using his own money before the grant and of the book shelves he and his family purchased and assembled. "Reading Penny Kittle totally revolutionized things."