Teaching and Observing: Our Midsummer Night's Dream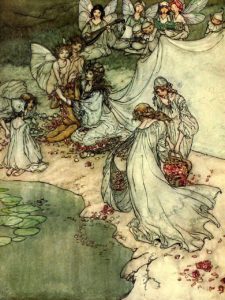 I've taken to including Shakespeare in my AP Language and Composition course. These last few years, we've been reading A Midsummer Night's Dream in early April. The poetry of the play provides some relief from our steady diet of nonfiction essays and gives us valuable practice at deciphering sixteenth-century English. Of course, we take time to analyze the effects and purposes of the literary techniques and rhetorical tropes that Shakespeare used, as well as the "argument" of the play.
But the students get most excited about performing the play. We do simply staged readings of the sections that I've assigned the students to read the previous night, and they form acting troupes and prepare more formal performances of the last act of the play. This gives me an opportunity to step back and observe my students, something I should do more often. I often get caught in the trap of tending to the various little duties and responsibilities that land on my desk when I could be watching my students – watching them working in small groups, watching them silently reading, watching them journaling. I forget that I can learn more about them from observations than from the tests and essays and other assignments they turn in to me.
The following poem represents one of those moments when I was able to stop whatever I was doing or thinking and just pay attention to what was happening in the classroom. And what I noticed may have been one of those small epiphanies that students sometimes have when they think no one is looking, when they are given the chance to teach each other – about Shakespeare and poetry and life.
Our Midsummer Night's Dream
This, I think, is what Shakespeare had in mind:
My sophomores perform the play in class.
New actors volunteer for each scene and work
The lines, and despite what they might expect,
The magic of the wordplay – and this glimpse
Into the mist of love – does transform them.
They like how the poetry fits in their mouths,
Like pebbles helping them sound more eloquent.
Today, Nick the transgender boy plays Lysander,
While Helena is played by Alec the jock, who says,
"What wicked and dissembling glass of mine
Made me compare with Hermia's sphery eyne?
But who is here? Lysander on the ground!
Lysander, if you live, good sir, awake."
And Nick on the floor as Lysander does,
His eyes awash in the love juice of Puck,
And staring amazed at fair Alec, declares,
"And run through fire I will for thy sweet sake.
Transparent Helena! Nature shows art,
That through thy bosom makes me see thy heart."
At this, I watch twenty minds turn slowly,
Glance shyly at each other, and smile.
David Duer lives in Iowa City and has taught English language arts at Cedar Rapids Washington High School for ten years.