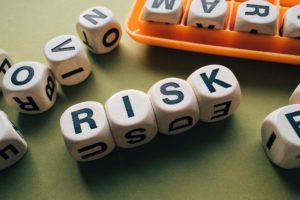 I took some risks this week as an educator, and it struck me how many of these risks had to do with submitting — proposals for presentations, applications for programs, entries for awards, and articles for publication. To move ahead in our careers as teachers we must submit to others' consideration and judgment.
Submission is a risk. We put time and effort into applications which may not be accepted. We also expose ourselves to the possibility of failure or scorn. But the only way to grow, enact change, exchange ideas and win accolades is to, in fact, submit.
And if I really think about it, I've already been rewarded for my risks this week in many ways. In submitting proposals to present at the National Council of Teachers of English Annual Convention, I feel validated that three educators I highly respect and look up to actually agreed to commit to present with me. That means they think I can handle it, even if our application is not accepted by a group of people I've never met. Applying to conduct a session at NCTE will also impact my teaching, because through writing the applications for these presentations, I have stated my beliefs of what is important to teach as a teacher and how I plan to go about doing it. Because it is in writing, and I've taken the time to think it through, I'm more likely to do it well, and students will benefit.
In submitting a formal application to begin the process of becoming a National Board Certified teacher, I feel connected to my cohort group of teachers from my school going through the same challenging work. In taking the risk of going through the different components to qualify, I am refining my practice and taking an introspective look at what I do. I will improve from this work.
I submitted our yearbook for a national award through the National Scholastic Press Association, which it is highly unlikely to win, but I benefit from the excitement and the possibility of surprises to come. When we win awards, it is highly motivating to students and rewarding to me as a teacher. Recognition helps our program, so it's always worth taking a chance.
We need to submit to become better people. Submission is a requirement of most great concepts, including love, parenting, religion, and teaching. Today, I submitted this article for publication. What will you submit?
JoAnn Gage is an English and journalism teacher at Mount Vernon High School.