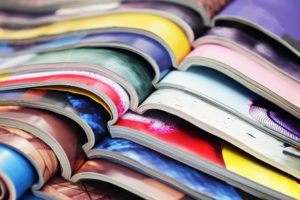 I was blessed to inherit a vibrant literary magazine extracurricular tradition at my high school. Every year that I've guided the Washington Literary Press, at least twenty students have been active in the club, which meets twice a week after school, on Tuesdays and Thursdays, for about 45 minutes. In fact, students involved in the press have the option to take a class, Literary Magazine Production, that reflects the work and learning that takes place.
The students publish four issues of The Unfortunate Mr. Farrows, an 8 1/2-by-11-inch saddle-stapled zine that typically runs 24 to 28 pages and is produced at our district's print shop. Then, as our culminating project of the year, the students publish Fingerprints, a journal of art and literature that usually runs 96 pages and is printed in full color and perfect-bound at McNaughton & Gunn in Michigan.
The group is led by a Senior Editor, who runs the editorial meetings and coordinates other decision-making; two Managing Editors, who are responsible for promotion, publicity, and outreach; two Layout and Design Editors, who do all the work related to getting the issues ready to be printed; two Submissions Editors, who handle the clerical work during editorial meetings and send out letters to all students who submit work; and an Art Editor, who provides technical advice concerning the art in each issue. The students are wholly responsible for the editorial decision-making process. I am in the room but often involved in some behind-the-scenes work. I offer my opinion only when the staff asks for it.
Besides the work of discussing the poetry, prose, and art submitted to the magazine (clearly the favorite activity of the staff), the staff decides on themes for the zine issues and strategies to motivate students to submit work, creates posters inviting submissions, visits classrooms to promote the magazine, designs and lays out the issue, proofreads the copy before it goes to the printer, reviews and critiques the issue after it returns from the printer, and sells copies to fellow students and in the community.
Parents have an opportunity to buy a subscription for their son or daughter at the beginning of the school year when they are registering their child and paying fees. Those funds, along with money from sales of individual issues, sustain the work of the literary press. Nine years ago, the staff decided to host a fund-raiser to ensure that we could afford to produce a high-quality full-color edition of Fingerprints. This event, a poetry slam augmented by musical performances and a small art gallery, has become a popular school tradition, generally netting the club about $400.
These are the basic nuts-and-bolts guidelines for establishing such a club at your school. If your school doesn't have such a club, I encourage you to give it a shot. I'm always amazed by how excited and proud the students are when they see the publication, the product of their work. And I'm impressed by how they take ownership of that work. A school literary press meets all the criteria of  Project-Based Learning: a challenging problem, sustained inquiry, authenticity, student voice and choice, reflection, critique and revision, and public product (PBL Starter Kit, Buck Institute for Education, 2017). Each year, students step up to shoulder the extra work of putting out that final issue. And after that, three or four students enthusiastically apply and interview for next year's Senior Editor position.
David Duer teaches U.S. Humanities, AP Language and Composition, and Literary Magazine Production at Cedar Rapids Washington High School. Feel free to contact him at [email protected] if you have any questions about starting a literary magazine at your school.