Tensen Named NCTE Teacher of Excellence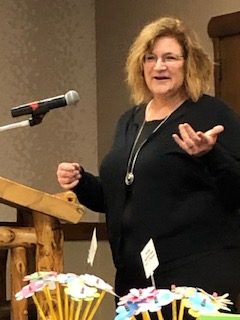 The National Council of Teachers of English awarded Tracy Tensen with the 2020 Teacher of Excellence Award. Tensen began teaching English in Iowa in 1987, and has been teaching at Gilbert High School since 2014, where her courses include AP Language and Composition, AP Literature and Composition, dual enrollment Composition I and II, English 12, and Accelerated English 9. Tensen received the ICTE High School Teacher of Excellence Award in 2019.
English teacher Cathy Anderson nominated Tensen for the award.  "Her commitment amazes me," Anderson said. "She spends almost every evening and weekend commenting on students' papers so they can improve as writers." 
Anderson went on to say that Tensen is one of the smartest people she knows. "I leave my classroom door open during my prep so I can listen in on Tracy's class," Anderson said. "It's like attending fantastic college class every day. I learn new things often — and I have four college degrees!"
Gilbert High School Principal Vic Vanderpool also nominated Tensen for the award.  He said that Tensen is eager to help other teachers in her building and she is also an active member of grade-level and district school improvement leadership teams. Vanderpool praised Tensen for regularly seeking professional growth and sharing her learning with others.
Tensen has been published in English Journal multiple times, in addition to being a peer reviewer for the journal. She has presented in national and state conferences, and sponsors a creative writing club and Poetry Out Loud in her school.
The last teacher from Iowa to win the award from NCTE was Sarah Brown Wessling of Johnston High School in 2011 when she was also chosen as National Teacher of the Year.