Eng-Camp 2015 Resources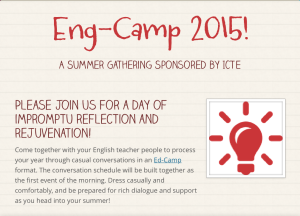 Eng-Camp 2015 is Saturday, June 6th, at four locations around the state. We look forward to seeing you there! For the event flier, click here. To register for the event, click here.
As we'll be hanging out in different locations, we want to share our conversation notes and resources electronically. If you are unable to attend any event in person, please join in the conversation on Twitter at #engcamp2015! Please refer to the schedules below to view the conversations and notes from each site.
Eng-Camp Central Schedule and Notes (Des Moines)
Eng-Camp East Schedule and Notes (Cedar Rapids)
Eng-Camp Northwest Schedule and Notes (Orange City)
Eng-Camp Southwest Schedule and Notes (Logan)
Eng-Camp attendees, we value your feedback. Please take a few minutes to give us some information here.
Thanks to all who helped make Eng-Camp a success!