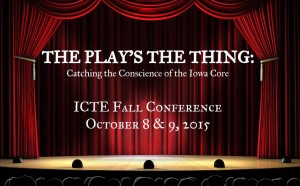 ICTE Needs Your Expertise
---
Please consider submitting a breakout proposal for our 2015 Fall Conference. We are looking for traditional 60 minute sessions as well as a new 10 minute session format for Friday morning. Presentations for the 10 minute session should be practical ideas (think about showcasing a lesson, strategy, tech tip or other idea) to share with your colleagues across the state. The shorter sessions will be presented 5 times in the main conference room (Northwoods) to give participants the opportunity to hear multiple voices during one larger session.
Submit here or follow this link: http://tinyurl.com/ICTE2015Breakout
Deadline for proposals: Friday, September 11, 2015. We will respond to you by Monday, September 13, 2015 with our acceptance.